Phase 1/2 study of MDNA11 as a novel treatment for solid tumors
Medicenna is dedicated to developing potential best-in-class immunotherapies that can treat advanced cancers. Our therapies aim to enhance and train the capabilities of the immune system – which is usually blunted by the cancer – to rid patients of their disease.
We are currently enrolling patients in the ABILITY Study (A Beta-only IL-2 ImmunoTherapY), our ongoing phase 1/2 clinical trial that is testing our cancer immunotherapy, MDNA11, which works by boosting the patient's own immune defenses to recognize, attack and kill the cancer.
ABILITY Study Overview
ClinicalTrails.gov Listing: NCT05086692
Status: Recruiting
Indication: Solid Tumors
Phase: 1 / 2
Locations: United States, Australia, Canada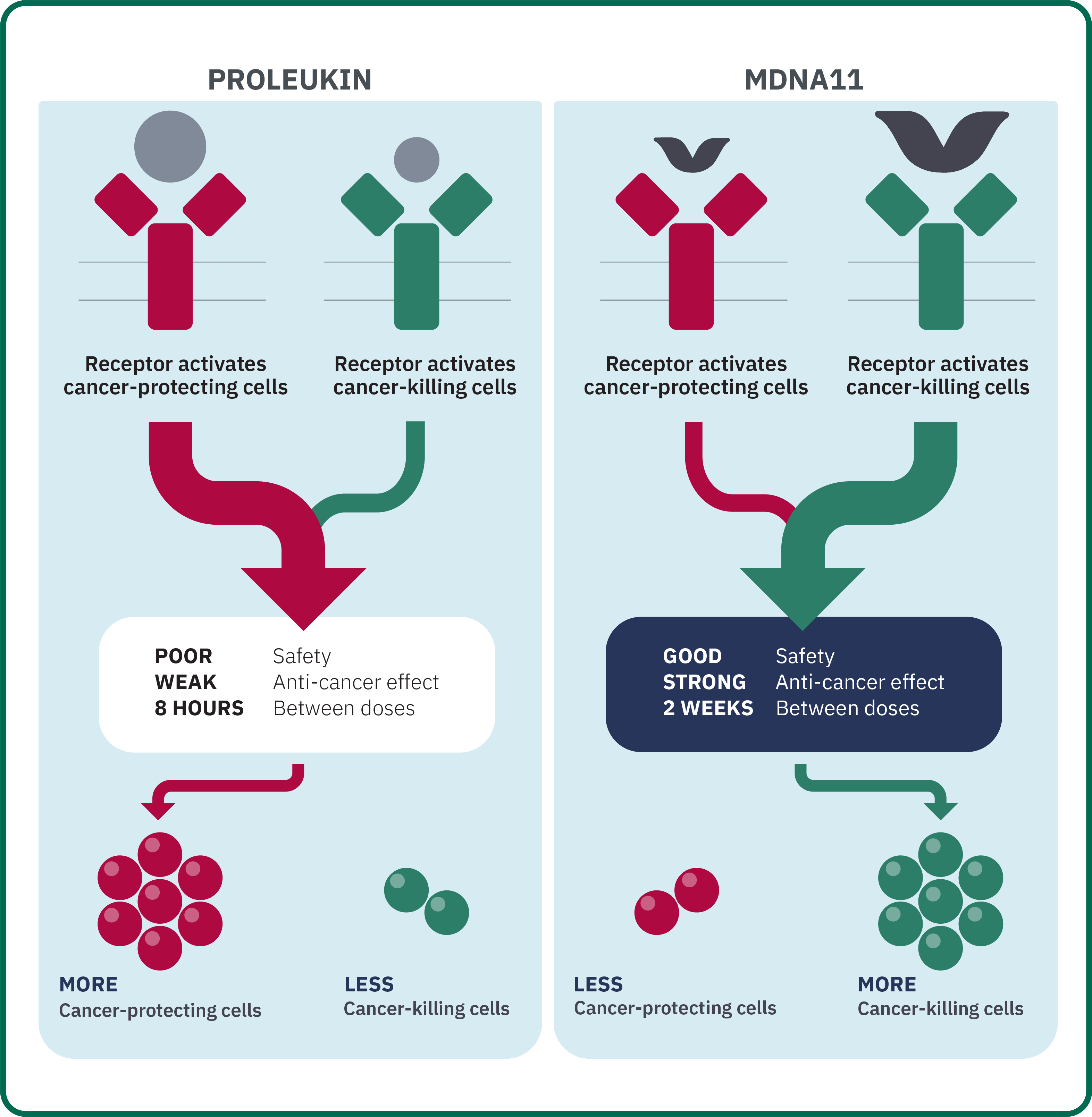 What is MDNA11?
MDNA11 is an optimized version of interleukin 2 (IL-2, also known by the trade name Proleukin®). The goal of IL-2 therapies is to stimulate the patient's immune system to activate cancer-killing immune cells despite the presence of the cancer-protecting cells used by the cancer to defend itself.
Proleukin was approved by the FDA for treating cancer, and has been found to achieve long-term cures for some patients. However, Proleukin has a major drawback: It needs to be given at high doses multiple times a day over several days. This type of treatment can result in severe side effects, often requiring admission to an intensive care unit.
Medicenna designed MDNA11 to be a much safer and more effective treatment by activating the cancer-killing immune cells of the immune system without the toxicity of Proleukin. In addition, MDNA11 has been modified to have a longer-lasting effect, therefore, only needing to be given once every two weeks, instead of every 8 hours with Proleukin.
Medicenna has a proven track record of taking such drugs into clinic trials for the benefit of patients. To date, data from the ABILITY study show that side effects are markedly reduced and immune cells are robustly activated for up to 2 weeks after a single dose of MDNA11.
Trial Details
To be eligible for the ABILITY trial, patients must be 18 years of age or older, and have been diagnosed with metastatic or advanced solid cancer. Clinical assessment will be performed before enrollment to determine whether patients could benefit from MDNA11.
During the study, patients will undergo assessments – such as blood collection and imaging – at predetermined intervals to monitor how their immune cells are being stimulated by MDNA11, and how the cancer is responding to treatment. The ABILITY trial is ongoing at multiple clinical sites and hospitals across the United States, Canada and Australia. If you are interested in being part of the trial and would like to have more information, please contact your treating physician or clinicaltrials@medicenna.com.
Trial Sites
United States
• Boca Raton Regional Hospital, Boca Raton, Florida
• Emory – Winship Cancer Institute, Atlanta, Georgia
• Orlando Health Cancer Institute, Orlando, Florida
• Providence Saint John's Health Center, Santa Monica, California
Australia
• Chris O'Brian Lifehouse, Camperdown, New South Wales
• Gallipoli Medical Research Foundation, Greenslopes, Queensland
• Scientia Clinical Research, Randwick, New South Wales
Canada
• Princess Margaret Cancer Center, Toronto, Ontario
EAP Statement
At this time, Medicenna's investigational therapy is not available on an Expanded Access Program (EAP) or Right-to-try basis for patients who do not qualify for the ABILITY study. In the event Medicenna decides to consider EAP or Right-to-try use, the company will evaluate and respond to each request on a case-by-case basis.